These pictures show a level of bruising after a vasectomy that is perhaps very unusual. The first three pictures were taken on the fourth day following surgery via the scalpel method, and the later ones were submitted as the recovery progressed.
"I had quite a bit of pain (7 out of 10) for about 1.5 hours three hours after the procedure, although it then subsided once the pain killers kicked in and the bruising and swelling was evident the following morning which was about 16 hours after the operation. The operation itself was absolutely fine with no problems whatsoever.
The swelling was as its worst 24 hours after the operation and was about 15% more than the photos show. The abdominal bruising showed up on day three. As you can see, my left side is much better than the right side. Not that I think it has anything to do with it, but just in case (and for reference) I am a serious amateur triathlete and cycle approx 15,000km a year in addition to running and swimming regularly."
Four days after vasectomy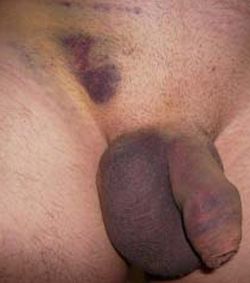 Bruising on testicles, front of penis and abdominal bruise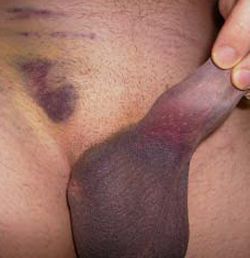 Another view of bruising on testicles, underside of penis and abdominal bruise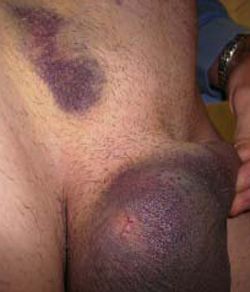 This picture shows the incision above the right testicle, plus all the bruising and swelling.
Six days after vasectomy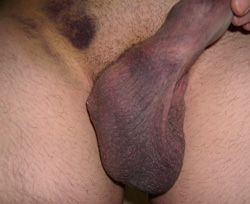 Continued swelling and bruising of scrotum and abdomen.

Continued swelling and bruising of scrotum and abdomen.
11 days after vasectomy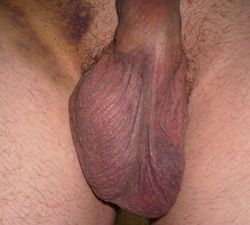 Contributor comment: "Abdominal bruises are still a bit tender, but hardly any other pain. The hematoma has not yet reduced in size and is about one and a half times the size if my testicle at the moment. Hopefully it will start to get smaller! At least I am able to swim now."

Another view of bruising, 11 days after the vasectomy procedure.
Many thanks to our contributor for submitting these pictures and allowing us to use them.