Failure rate | Comparative table | Recanalization | Summary
There are numerous points to be considered by men, women, or couples when deciding which method of birth control is right for them. The efficacy and reliability of the procedure are on top of that list. A vasectomy is one of the most effective birth control options available, and the most effective method for men. However, no medical procedure is 100 percent foolproof. Vasectomy failure is rare, but it can happen.
What are the chances a vasectomy will fail?
The failure rate for a vasectomy is 0.15 percent1Trussell J. Contraceptive failure in the United States. Contraception. May 2011:397-404. doi:10.1016/j.contraception.2011.01.021, a number many doctors will quote when asked for a reliability figure. However, it's important to note that most vasectomy failures happen soon after the procedure, when live sperm may still be present in a man's semen.
Royal College of Obstetricians & Gynaecologists (RCOG) gives vasectomy a 0.05 percent (1 in 2000) chance of failure.2Archived: Sterilisation for women and men: what you need to know. Royal College of Obstetricians and Gynaecologists (RCOG) https://web.archive.org/web/20110104225418/http://www.rcog.org.uk/womens-health/clinical-guidance/sterilisation-women-and-men-what-you-need-know#how3Sterilisation (vasectomy and tubal occlusion) – Contraception. Sexwise, Family Planning Association (FPA) https://www.sexwise.fpa.org.uk/contraception/sterilisation Their figure is based on men having been given clearance after submitting samples for analysis in order to rule out early failures and recanalization (spontaneous re-joining of the vas deferens). One study puts the rate at 0.025 percent (1 in 4000) when DNA proven paternity of post-vasectomy babies was taken into account.4Barry R. Male contraception and no-scalpel vasectomy. BCMJ. 2001;43(10):560-566. https://www.bcmj.org/articles/male-contraception-and-no-scalpel-vasectomy
How does vasectomy compare to other methods of birth control?
| Method | Perfect use | Typical use |
| --- | --- | --- |
| Vasectomy (Male sterilization) | 0.10% | 0.15% |
| Implant (Nexplanon) | 0.05% | 0.05% |
| LNG IUD (Levonorgestrel intrauterine system) | 0.2% | 0.2% |
| Tubal ligation (Female sterilization) | 0.5% | 0.5% |
| IUD (Copper T intrauterine device) | 0.6% | 0.8% |
| Injection or "shot" (Depo-Provera) | 0.2% | 6% |
| Vaginal ring (NuvaRing) | 0.3% | 9% |
| Patch (Evra) | 0.3% | 9% |
| Pill (Combined pill and progestin-only pill) | 0.3% | 9% |
| Diaphragm | 6% | 12% |
| Condom (Male) | 2% | 18% |
| Internal condom (Female) | 5% | 21% |
| Withdrawal (Pull out method) | 4% | 22% |
| Fertility awareness methods (FAMs) | 3-5% | 24% |
| Spermicides | 18% | 28% |
Comparative table of percentage of women experiencing an unintended pregnancy during the first year of typical use and the first year of perfect use of contraception
1
Trussell J. Contraceptive failure in the United States. Contraception. May 2011:397-404. doi:10.1016/j.contraception.2011.01.021
There are two types of failures normally quoted in statistics:
Contraceptive Failures. The figure of how likely pregnancy is going to occur is known as the contraceptive failure rate.
Technical failures. In the case of vasectomy, are where the man hasn't had clearance after a set number of ejaculations, or specified time period.
Many studies that have looked at vasectomy failure have been very short term ones. Typically they look at 20 ejaculations or a period of 3-4 months. Any man not having been cleared after the end of the study period is classed as an "Early failure". More accurately it could be described as not having cleared in the studies allocated time span. The fact is that all men clear at different rates, and some may take several months longer than others to clear. Studies indicate that the vast majority of men will clear eventually given time. Vasectomy is usually quoted at less than a 1% technical failure rate.
Remember that most men do eventually become clear, so the technical failure rate is misleading as in the vast majority of cases a technical failure does not mean a contraceptive failure. The man just keeps submitting samples until he's proven to be clear.
Can a vasectomy reverse itself?
An unintended post-vasectomy reversal is known as recanalization. Recanalization is a process in which sperm regains the ability to enter a man's semen after a vasectomy, resulting in the remote possibility of pregnancy.
Harvard Medical School reports that recanalization occurs in approximately 1 in 4000 vasectomies.5Vasectomy and Vasovasostomy (Reversal Surgery). Well-Connected reports. Harvard Medical School. September 2001. Other studies have indicated that about 1 out of 2000-3000 men will experience a late failure.6Labrecque M, Hays M, Chen-Mok M, Barone MA, Sokal D. Frequency and patterns of early recanalization after vasectomy. BMC Urol. September 2006. doi:10.1186/1471-2490-6-25 So this figure will vary from source to source, but the bottom line is that recanalization is a very rare phenomenon.
Even when recanalization does occur, the resulting sperm counts are typically much lower than before and are less likely to result in a pregnancy. Just because a man has had a recanalization doesn't mean he will have pre-vasectomy levels of fertility.
How does recanalization happen?
When a vasectomy has "reversed itself" or recanalized, it doesn't mean that open ends of the vas deferens tubes have simply reconnected. The surgical techniques involved with modern vasectomy procedures–along with the body's natural healing and scarring processes–make this more or less impossible
A recanalization occurs when sperm are able to escape from the cut end of the vas deferens due to microscopic channels that have formed in the patient's scar tissue. These tiny channels may be the result of a sperm granuloma, improper surgical technique, or other complications. If these microchannels develop and the two severed ends of the vas deferens are very close or touching, sperm may be able to travel from one section of the tube to the other.
Suggested reading
Risk of pregnancy after recanalization
The newly formed microchannels resulting from recanalization are much smaller than a man's previously intact vas deferens, so the chances of pregnancy will probably be greatly reduced compared to his pre-vasectomy fertility levels.
Nonetheless, recanalization is a form of vasectomy failure, which means the patient is not considered sterile. In situations where recanalization has occurred, an additional vasectomy will be necessary to ensure 100% sterility.
Suggested reading

Pregnancy after a vasectomy: Is it possible?
July 15, 2020
How is recanalization detected?
Recanalization can be detected during the post-vasectomy semen analysis, which usually takes place three months after the procedure. Unfortunately, many men do not return for a sperm count, and in these cases, a recanalization is not discovered until a man's partner has an unexpected pregnancy.
This is one reason why it is so vital for men to follow their doctor's follow up instructions and have a proper sperm count after their operation.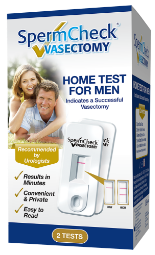 Recommended product
SpermCheck Vasectomy: Home Sperm Test Kit
SpermCheck Vasectomy is an FDA approved home sperm testing kit. It comes with two tests and is designed to allow men to check their post-vasectomy sperm count from the comfort of their own home.
Convenient
Private
Results in minutes
We only recommend products we think are useful for our readers. If you make a purchase, we may earn a small commission.
Summary
Once you have submitted the samples and been given the "All clear," a vasectomy is the most reliable method of contraception currently available. Like all methods of birth control, there is a failure rate, but the risk is considerably lower than with all other methods available. In fact, babies born after a vasectomy failure typically make the news media. How often can that be said about babies born of condom failure, and how many people do you know that this has happened to? If it's suitable for you is another question altogether, and one we look at in other pages of the website.
References and futher reading

Vasectomy-Information.com has a strict sourcing policy. We rely on evidence-based medicine, peer-reviewed studies, reputable clinical journals, and medical associations. Learn more about how we ensure our content is accurate and up-to-date by reading our editorial policy.

Trussell J. Contraceptive failure in the United States. Contraception. May 2011:397-404. doi:10.1016/j.contraception.2011.01.021
Sterilisation for women and men: what you need to know. Royal College of Obstetricians and Gynaecologists (RCOG) https://web.archive.org/web/20110104225418/http://www.rcog.org.uk/womens-health/clinical-guidance/sterilisation-women-and-men-what-you-need-know#how. Archived from the original.
Sterilisation (vasectomy and tubal occlusion) – Contraception. Sexwise, Family Planning Association (FPA) https://www.sexwise.fpa.org.uk/contraception/sterilisation
Barry R. Male contraception and no-scalpel vasectomy. BCMJ. 2001;43(10):560-566. https://www.bcmj.org/articles/male-contraception-and-no-scalpel-vasectomy
Vasectomy and Vasovasostomy (Reversal Surgery). Well-Connected reports. Harvard Medical School. September 2001.
Labrecque M, Hays M, Chen-Mok M, Barone MA, Sokal D. Frequency and patterns of early recanalization after vasectomy. BMC Urol. September 2006. doi:10.1186/1471-2490-6-25