The following photo set is from one of Dr. Edward Karpman's patients who were willing to participate in our "Pictures" section. These pictures show the progress of vasectomy healing on a day by day basis, starting from minutes after the procedure was performed.
Day 1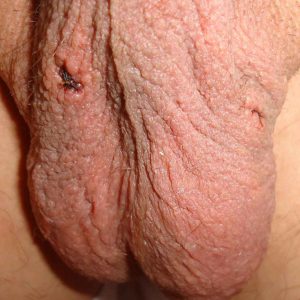 Dr. Karpman's comments
I did this vasectomy today using a non-scalpel technique and two small incision sites located high on the scrotum. You can see how small the incisions should be for a vasectomy. One dissolvable suture on each side is used to close the tiny incisions (optional). The total surgery time was approximately 7 minutes. The patient read a magazine the entire time and didn't even flinch.
Immediate post-operative photos demonstrate virtually no swelling and very hemostatic (no bleeding) closure.
Day 2
Second day and there is no swelling or pain.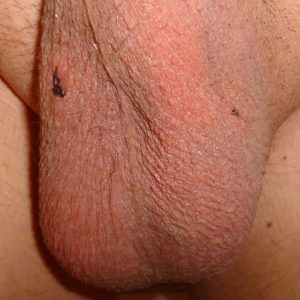 Day 3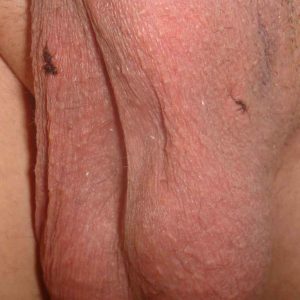 Day 4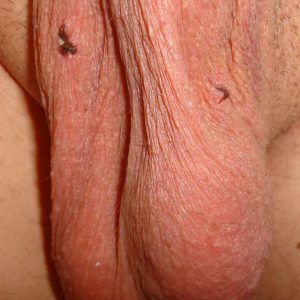 Dr. Karpman's comments
It's very hard to see any bruising. The incisions are healing appropriately, and there is no swelling at all.
Day 5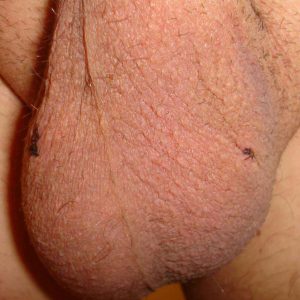 Dr. Karpman's comments
Minimal bruising on the left side, but compared to the photos of the midline incision you really see a big difference in how the two different approaches fare post-operatively. Not only is there significantly less bruising at the same time post-operatively than with the midline incision, but the smaller incisions heal much better than the larger one.
Many thanks to our contributor for submitting these pictures and allowing us to use them.