These pictures were originally added with a question to the Ask The Doctor section of the website. They show the appearance of normal stitches approximately one week after a vasectomy.
Contributor's question
I feel pulling and pinching from the stitching around the incisions from my vasectomy. The skin around the incisions is raised in a fold because the stitch drew the skin on both sides so close together. The tugging and pinching sensation made me wonder if one end of the vas deferens was stitched to the scrotum there. Is this a normal stitch? The right side felt similar and feels to have left quite a thick scar tissue, but the pinching has mostly subsided. Pinching and tugging are quite uncomfortable. Will it go away?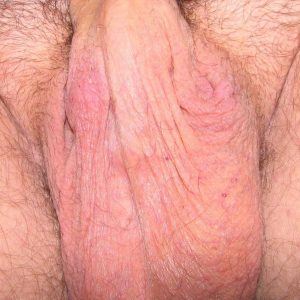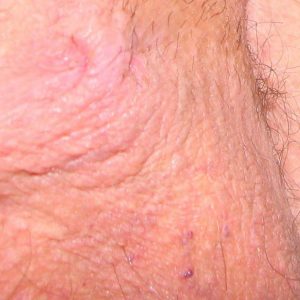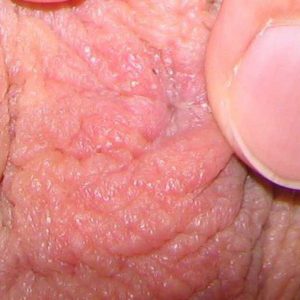 Dr. Karpman's reply
The pictures appear to represent the normal healing process 8 days after a bilateral vasectomy procedure. The puckering seen in the picture is normal this soon after the procedure and will likely resolve with some time. The associated symptoms may or may not be related to the scrotal skin findings. It is difficult to say if the underlying vas deferens is tethered to the skin without physical examination. It is difficult to make any long-term conclusions about the outcome of any procedure so soon after the surgery.
Many thanks to our contributor for submitting these pictures and allowing us to use them.