This photo shows relatively normal healing progress two days after a no-scalpel vasectomy with a midline incision. It was originally submitted as a question to the Ask the Doctor section of this website.
Contributor's question
Attached is a picture of my vasectomy incision. Post-procedure 2 days. This incision does not look normal to me at all. I'm not experiencing any unusual pain but I am concerned with the way this incision looks. Can you please let me know if this seems normal? Thank you.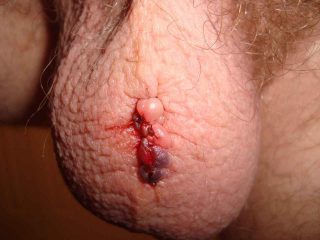 Dr. Karpman's reply
The submitted picture represents an incision 2 days after a vasectomy procedure with a single midline incision. There is minimal bruising and swelling surrounding the wound. The dark areas represent some skin that has been strangulated by the sutures used to close the incision. There appear to be 4-5 temporary sutures. Everything appears to be healing as expected for a man after a vasectomy performed with a single midline incision two days after the procedure.
The single midline incision sounds attractive to prospective patients, but the reality is that a single incision that requires 4-5 sutures to close is much more invasive than two separate incisions requiring zero to one suture to close. A comparison of photos from previous posts using the 2 incision technique will help with understanding the differences between the two approaches.