These pictures were sent in to illustrate the problem one of our contributors had following his vasectomy reversal (vasovasostomy). They show an unusually high level bruising and swelling, much of which was due to a hematoma.
Hematomas are an uncommon but generally harmless potential complication of any vasectomy or vasectomy reversal. Hematomas can be uncomfortable and frightening, but they generally self resolve after a matter of weeks or, in extreme cases, months. Click here to read more about post-vasectomy hematomas.
Editor's Note: While these images show the effects of hematoma resulting from a vasectomy reversal, I can confirm from firsthand experience that a hematoma caused by a standard vasectomy looks very similar.
From the contributor: "We were extremely relieved when we FINALLY found your site containing real images of other patients going through the same thing, even though it was post vasectomy. We haven't been able to relate his experience with anyone until last night.
It was very helpful, and I want to thank you for that. I want you to use them so that we could possibly help someone else out in knowing that this thing DOES happen, and this is what it looks like. I haven't been able to find ANYTHING concerning post vasovasostomy hematoma – so thank you so much, we really appreciate it."

Click on the photo for an enlarged image.
Day 1, 4 hours after the operation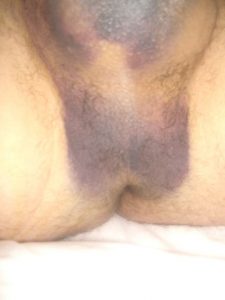 "The scrotum started swelling IMMEDIATELY following surgery turning dark purple, then nearly black. I started documenting this information because I was extremely worried that these symptoms would worsen. And I was right."
Day 1, 12 hours after the operation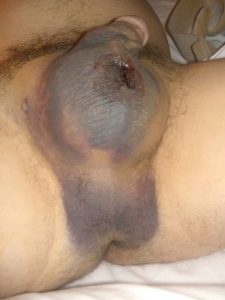 "Within 8 hours after the procedure, my husband started experiencing tremendous pain accompanied with bruising and swelling in the right side of his groin. We prayed that this would be normal side effects from the reversal, and would eventually ease."
24 hours after the operation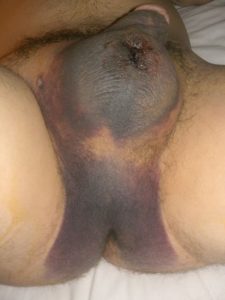 48 hours after the operation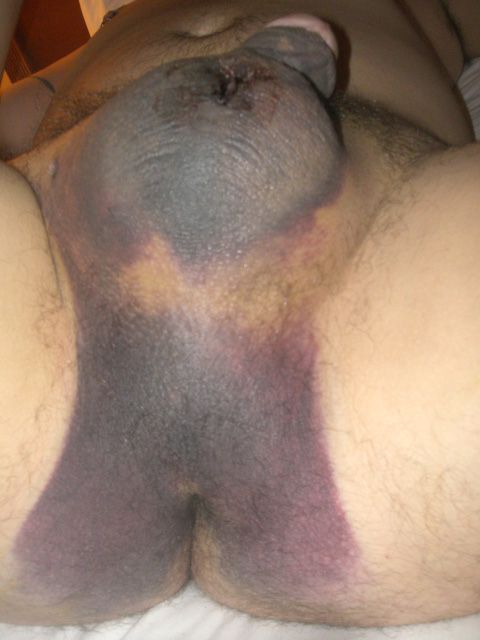 4 days after the operation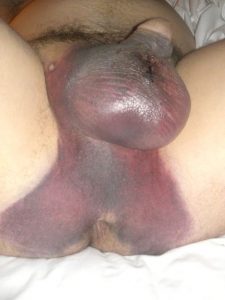 5 days after the operation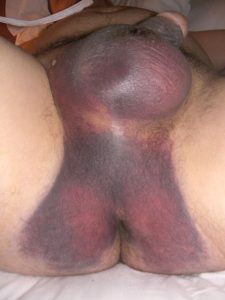 9 days after the operation
9 days after the operation