This series of images is a good example of how a typical vasectomy patient heals from the procedure. As you can see, there is minimal swelling and bruising, although this patient did experience a minor infection approximately one week into the recovery process.
Contributor's comments
I've attached some pictures of my vasectomy. I would have liked to have found this site prior to my 4 days post vasectomy, but I'll continue to add pictures on a daily basis. The prime reason I've decided to share is not that anything untoward has occurred, but I'm having a marvelous recovery. Very little bruising that I can see, and I would like others to see what a good recovery can look like and how good their recovery can be.
Day 4
These pictures were taken on day 4. Note there is a small red area just below and right of the midline incision. This area can be seen a little better by clicking the picture for the enlarged version.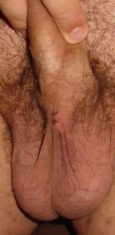 Day 7
I've enclosed a few more pictures of my vasectomy as I've developed a small infection on my stitches. This is exactly at one week after the procedure.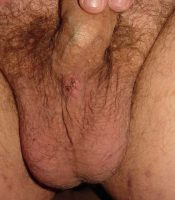 Many thanks to our contributor for submitting these pictures and allowing us to use them