These photos were taken on the 5th day following the contributor's vasectomy. We don't usually show the penis in photos, but in this instance, we've made an exception to provide perspective and help visitors visualize the level of swelling.
Contributor's question
These two pictures were taken on day 5 of recovery. I seem to have quite a bit of swelling, bruising, and tenderness with my bilateral vasectomy. Is this amount of bruising normal? The site of the incision (where the stitches are) is a little dark because he had to apply a small amount of silver nitrate to stop some surface bleeding after the procedure.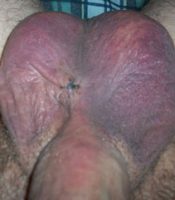 Dr. Karpman's reply
These pictures 5 days after a midline vasectomy demonstrate a more than average amount of bruising that is expected after a vasectomy. There is some swelling in the scrotum. There does not appear to be any active bleeding. The bruising seems to be improving as you can see the normal color changes that occur with resolution.
Usually, the blood that is trapped within the skin is broken down into the basic components of hemoglobin which will cause the color to change from purple to green to yellow before finally fading. Consultation with your vasectomy surgeon is important in any situation where the healing process is out of the norm.
Many thanks to our contributor for submitting these pictures and allowing us to use them and to Dr. Edward Karpman for his insight on these photos.