This image set shows fairly typical bruising five days following a no scalpel vasectomy.
Contributor's comments
These photos were taken five days after the operation and are my bits 'at their worse.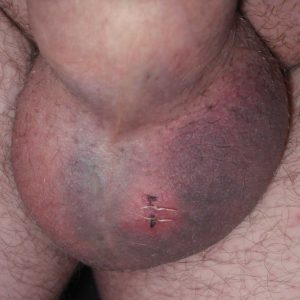 I had pain, which after a week meant that I returned to the doctor, who said it was all perfectly normal, and literally on the 8th day, the pain was gone, like a light switch being turned off! The swelling and pain were bad for one week and then began to ease. I had some pain and discomfort for a month and now everything to back to normal.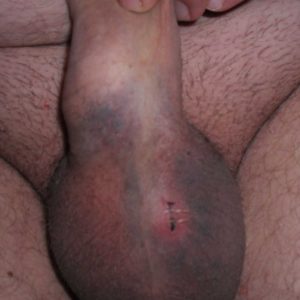 The bruising took about two weeks to fully disappear and it was a month before all twinges and niggles went away. I feel I recovered well and didn't need any kind of pain relief after the first week. I have absolutely no regrets – and it's almost been a year now. My biggest fear was that orgasm and ejaculation would suddenly no longer be achievable! I realized this wasn't the case and knowing that my wife wouldn't be getting pregnant any more made lovemaking more spontaneous and enjoyable.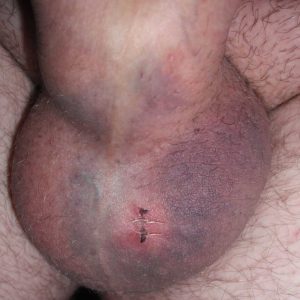 It took 16 weeks for the doctor to give the all-clear which meant just handing in a single sperm sample and it took just three days to get the results.
Many thanks to our contributor for submitting these pictures and allowing us to use them.